Throughout Australia's history, war has had and continues to have a significant impact on its people and society. It is important to understand Australia's role in these conflicts, while reflecting on how the tragedy of war can be avoided and its casualties commemorated and supported.
The following Britannica Library learning toolkit on past and present conflicts that have affected Australia is a great starting place for conducting workshops, exhibitions or activities in your library.
---
Resources
Use these resources to learn about Australia's involvement in the two World Wars, the Korean War, the Vietnam War, the Gulf War and more. Study how propaganda influenced people's perceptions with posters from 1900's. Watch a video to learn about the Japanese bombing of the city of Darwin, Australia in 1942.
---
Activities
Print out these activities for children to complete on their own or in groups, using information found in the resource packs above or elsewhere in the library. Worksheets can also be downloaded, shared and completed online.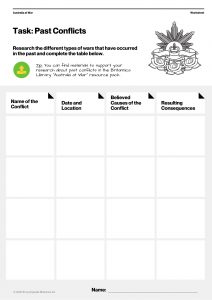 Past Conflicts
Research different wars that have occurred in the past. Complete the Past Conflicts worksheet outlining the details of each conflict.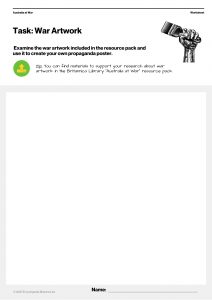 Propaganda Posters
Examine the war posters included in the resource pack. Why do governments employ war artists? What is the difference between art and propaganda? What makes a great work of art or successful propaganda poster? Create your own propaganda poster.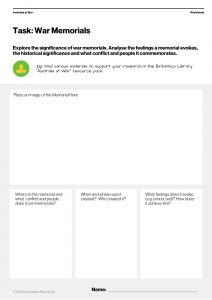 War Memorials
Explore the significance of war memorials. Analyse the feelings a memorial might evoke, the historical significance it has and the conflict and people it commemorates. Complete the War Memorials worksheet.
Featured Image from Britannica ImageQuest: Australian Soldiers in New Guinea. Australian soldiers, stationed in Vau, Papua New Guinea are unloading a C-47 plane from the 6th Transport Squadron, which brought fresh supplies from Port Moresby to Vau. Image Credit: akg Images / Universal Images Group
---
These activities and resources have been created using content from Britannica Library, the go-to site for safe, comprehensive research for all ages. Find out if your library already has access or set up your own free trial.
---
Other related content from Britannica:
---
More Educator Resources
Sign up with your email for more free resources from Britannica.