Britannica School
Britannica School is the go-to site for learning more about any subject, for all years and reading abilities.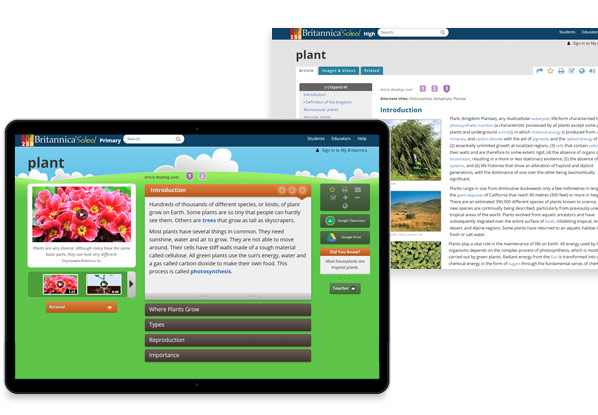 Differentiated Learning
Britannica School's built-in support for differentiated learning allows students to change reading levels inside an article with just one click.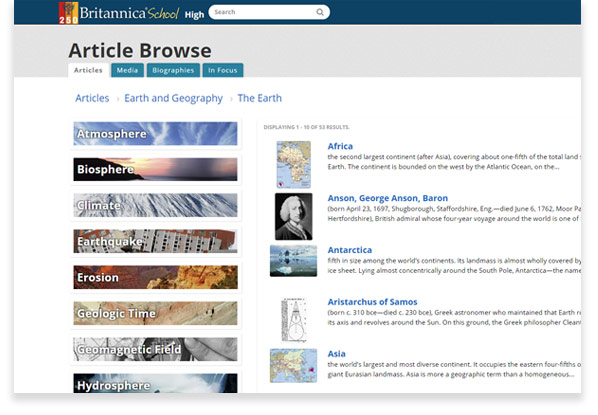 Authoritative Content
Britannica School offers a comprehensive array of accurate and up-to-date content for students, aligned to State, National Curriculum or International Baccalaureate Standards.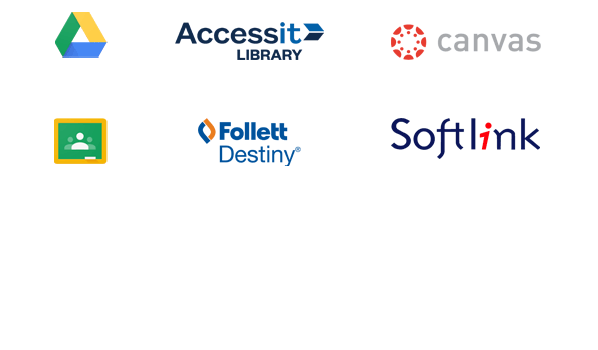 Technological Strength and Seamless Integration
Britannica School integrates with popular learning and library management systems to offer easy access for everyone.
Article Browse
Gateway to searching all subjects, from Animals to Technology.
Media Browse
Unlock a vast array of articles, photos, videos and audio to enhance the learning experience for all ages.
Biography Browse
Discover interesting people from past and present! Search by nationality, gender, era or subject category.
Animal Kingdom
Explore animals by group, habitat or simply from A-Z. Explore related links and learn interesting facts!
News Feeds
Hone your students' media literacy skills with access to age-appropriate news feeds and daily headlines.
Compare Countries
Compare and contrast any two countries with side-by-side statistics, graphs, maps, charts, articles and media.
Differentiated articles, multimedia features, translation and audio options, vocabulary support, and adaptive reading levels make the research experience accessible to students of different learning levels.
– Common Sense Graphite Reviewer
Stellar Database: SLJ Readers' Favourites and Other Essential Electronic Resources.
– School Library Journal, April 2014

Reading Support
Read-aloud, double-click dictionary and built-in translation tools support students with special needs or non-English speaking learners.

Curriculum Aligned
Accurate, current and comprehensive content aligned to State, National or International Curriculum Standards.

All Devices
A responsive design provides the same user experience on a tablet, smartphone, laptop, desktop computer or any Internet-connected device.

All Ages
Three levels of article complexity support every Lexile level.

Updated Daily
Content is updated daily with new and revised articles and multimedia to stay on top of world events.

Personalise Easily
Personalise your experience, save and share content to Google Classroom using My Britannica.
Meet Britannica School Insights
See Britannica School content at the top of Google search results! Develop media literacy and boost resource uptake with this free browser extension for Britannica School.
Frequently Asked Questions
See how Britannica School can work for you.
By clicking submit your are accepting Encyclopedia Britannica's Privacy Policy.
As an Educator, I loved being able to trust that the content was safe and at a reading level I knew the students could engage in.
Stephanne Siberry
Teacher-Librarian – Lilly Pilly Learning Centre, AB Paterson College