We have transformed the way Britannica School looks, so our users can enjoy a modern learning experience that is even more accessible, personal and exciting.
Over the past year, Britannica's team of educators, together with user experience and design experts have worked on redesigning Britannica School into a space that is uniquely attuned to the online learning preferences of today's teachers and students.
We have kept all the popular features you know and love, while making improvements like:
Simpler design and navigation
A uniform experience across all devices
Better content engagement for all ages and abilities
Here is a closer look at what's changed.
---
Better Performance on Mobile Devices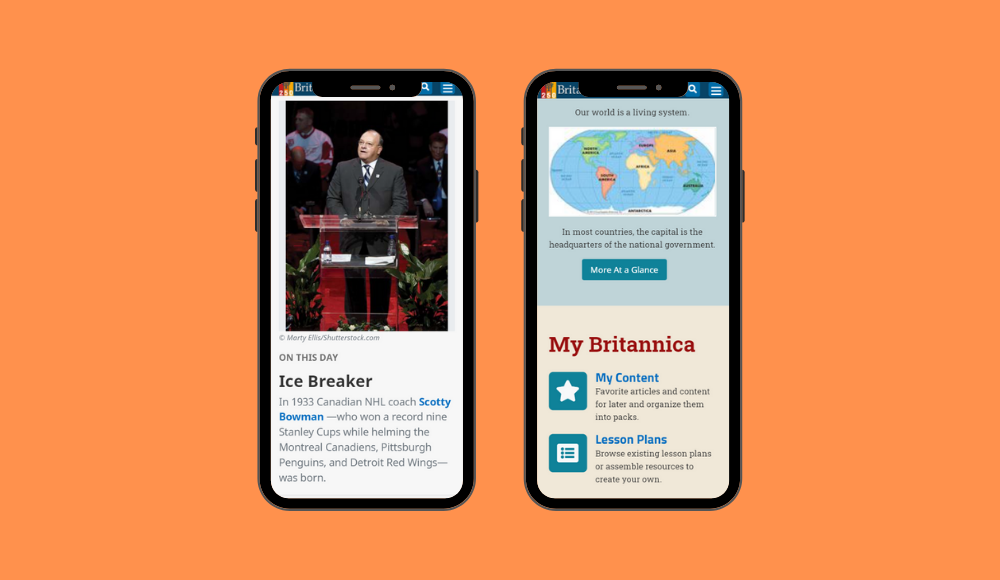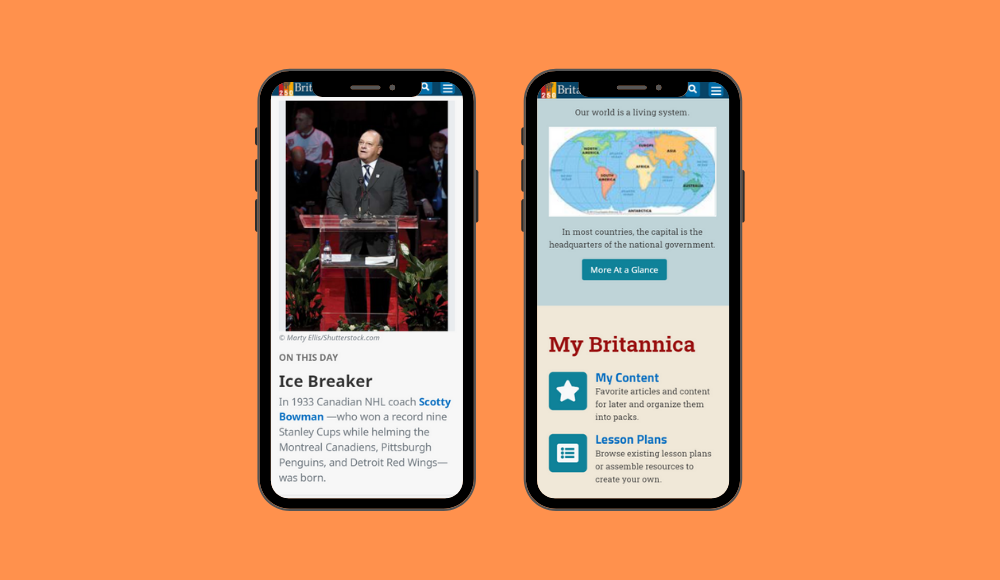 Start enjoying Britannica School on tablets and phones, just as you would on a desktop or laptop computer.
Page components reorganise for optimum fit on any screen.
Font size adjusts automatically when switching between devices, so information will always be easily readable.
Small screen layouts prioritises content and thumb-friendly navigation. (Good for little hands as well as big hands!)
Modern Design and Experience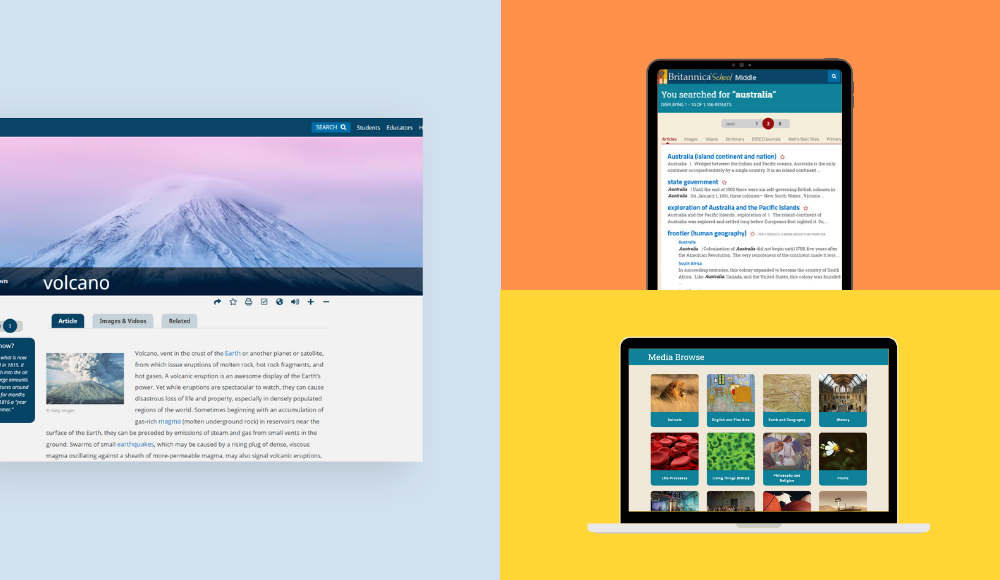 Our users deserve to learn in style. All 3 Britannica School levels are getting a fresh new look that is bright, modern and tailored to the visual preferences of each age group.
Enhanced Accessibility Across All Levels
We believe every student should be able to access accurate, relevant content at their own pace, no matter their age or ability. To make this possible, we have factored accessibility into every part of the new interface design.
Primary / Elementary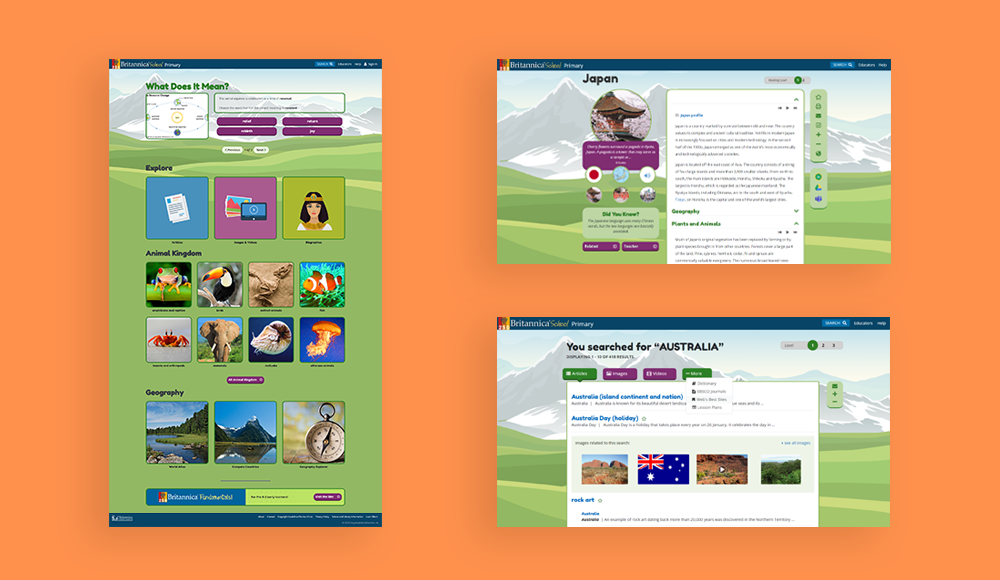 HOME PAGE: Vibrant colour blocking, plus large, friendly headings will encourage young learners to explore on their own.
SEARCH PAGE: Bold headings will make article titles easy to identify and click on.
ARTICLE PAGE: Content-centric layout and generous line spacing will help early readers stay focused. Article sections that have been expanded will now stay expanded when readers progress towards another section.
Middle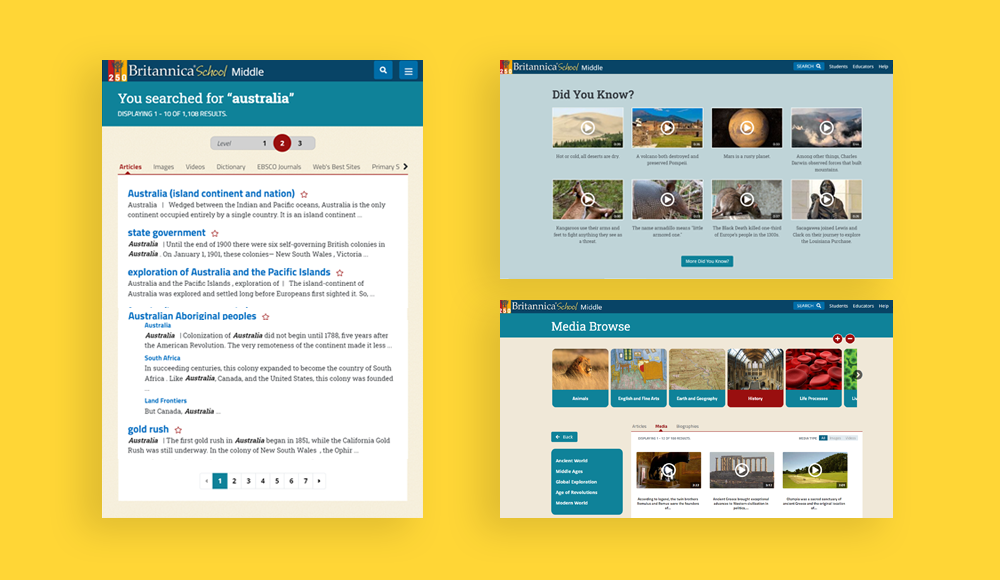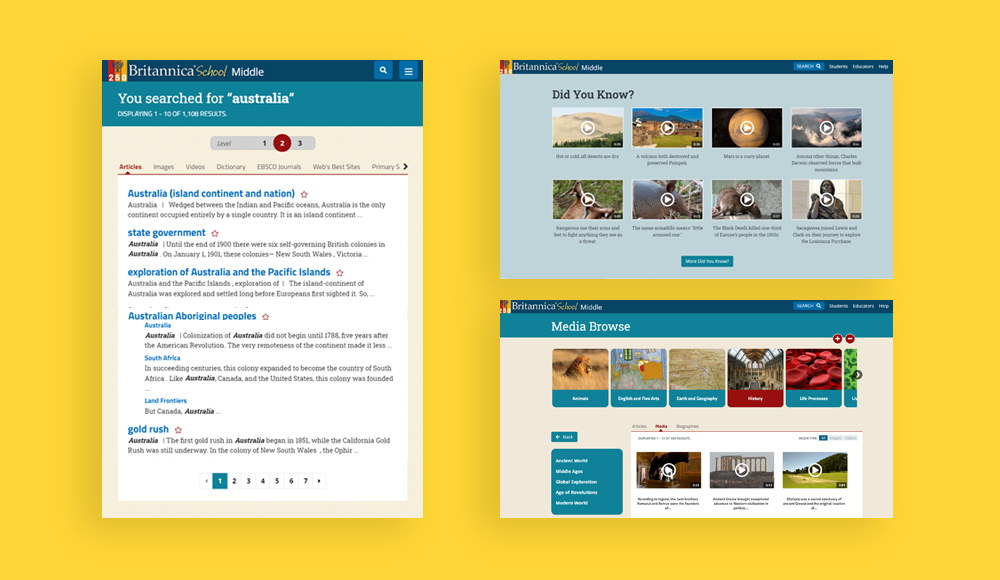 HOME PAGE: Task-focused elements are interspersed with fun highlights to maintain engagement. Added expandable sections and removed rotating carousels so users can control their own pace of discovery.
SEARCH PAGE: Decluttered search page will help students focus on the most relevant results.
ARTICLE PAGE: Higher visibility reading level selector and tools will assist with accessibility of text.
High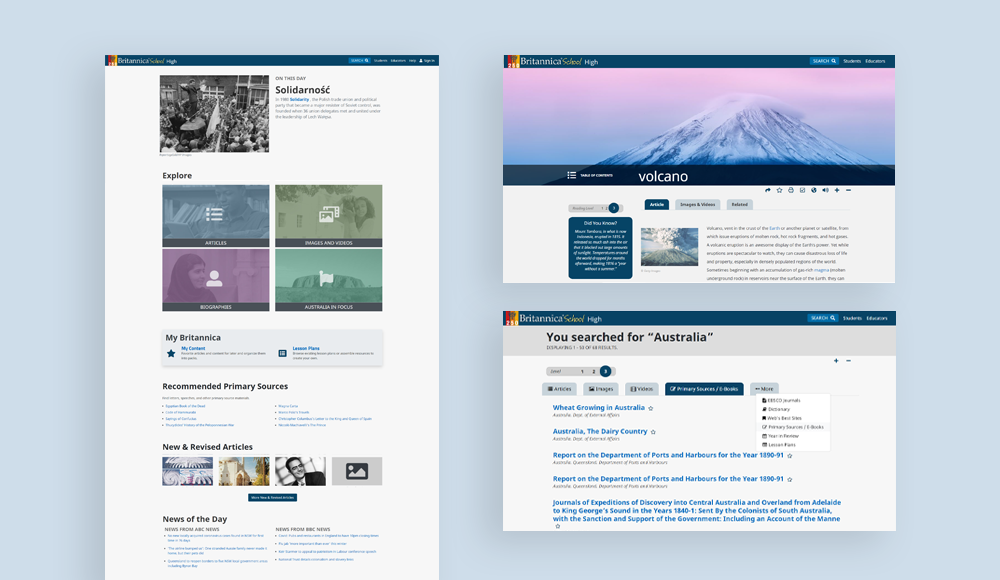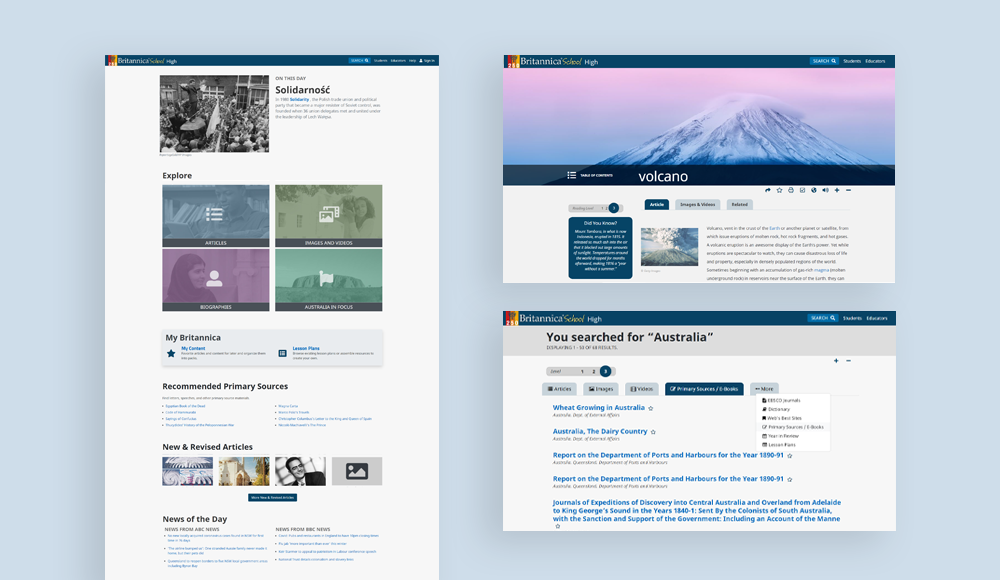 HOME PAGE: Minimalist, neutral backgrounds will help to draw attention to featured content and resources. Content is spread down a vertically scrolling page, an intuitive navigation format that most young people are familiar with.
SEARCH PAGE: Prominent media type filters and Advanced Search tools will help to streamline targeted searches.
ARTICLE PAGE: Visually appealing banner image to spark curiosity.
---
FAQs
When are the updates coming?
The new interface is now live! Login to your Britannica School account to view changes.
Is there anything I need to do?
We have handled the cutover completely from our end, so you don't have to do a thing.
Will any of the content on Britannica School change?
Don't worry. All the Britannica School content you currently have access to will stay exactly the same.
I'd like someone to take me through the new interface!
Sure! Free training sessions featuring Britannica School's new interface are available. Book a session
For shareable training materials, new Britannica School guided tours can be downloaded from the Resources page.
If you have any questions or concerns about the upcoming updates, we're here to help.
---
As the go-to site for research—the core of any inquiry learning model—Britannica School offers thousands of curated and curriculum-relevant articles, images, videos, audio clips, primary sources, maps, research tools, recommended websites, and three unique, but connected, databases to meet every reading level.