Summer is a great time of the year; the weather is warm and it's fun to go to the beach or pool for a swim to cool off. As we spend more time outdoors, it is important to be aware of sun safety and protect ourselves from over-exposure to solar UV radiation.
The following Britannica Library learning toolkit features a handpicked selection of resources on sun safety. If you're planning to run workshops, exhibitions or activities in your library around this topic, this is a great place to start!
---
Resources
How does the Sun work, what is ultraviolet radiation and why is overexposure bad for our bodies? These resource packs will help shed light on the science behind sun safety. They contain age-appropriate texts and multimedia from Britannica Library.
Librarian Tip:
Public Libraries in Australia can also access this resource pack at:
"Sun Safety" Kids resource pack for Australian Libraries↗
"Sun Safety" Teens resource pack for Australian Libraries↗
---
Activities
Print out these activities for children to complete on their own or in groups, using information found in the resource packs above or elsewhere in the library. Worksheets can also be downloaded, shared and completed online.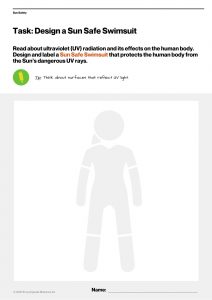 Design a Sun Safe Swim Suit
Read about ultraviolet (UV) radiation and its effects on the human body. Design and label a sun safe swimsuit that protects the human body from the Sun's dangerous UV rays.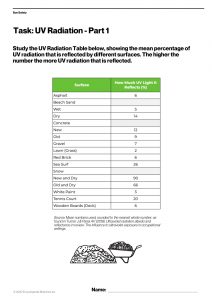 UV Radiation
Using your knowledge of the Sun and the UV radiation it emits, design a playground/outdoor space that is sun safe. Tip: Refer to the table showing how well different organic and man-made surfaces reflect UV radiation, found in the worksheet.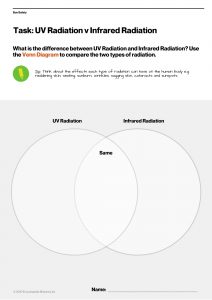 UV vs Infrared Radiation
What is the difference between UV radiation and infrared radiation? Use the Venn diagram to compare the two types of radiation.
---
These activities and resources have been created using content from Britannica Library, the go-to site for safe, comprehensive research for all ages. Find out if your library already has access or set up your own free trial.
---
More Educator Resources
Sign up with your email for more free resources from Britannica.