Tell the Anzac story in your library with activity ideas, non-fiction resources and Britannica's recommended book list for kids and teens.
For many Australians and New Zealanders, Anzac Day is an important day for remembrance. Observed on April 25 each year, it is a special day to honour those who had served in wars for their country.
The first Anzac Day was commemorated on April 25, 1916, one year after troops from Australia and New Zealand landed at the Gallipoli Peninsula in what is now Turkey during World War I. ANZAC is an acronym for "Australian and New Zealand Army Corps" and was initially used to refer to only those soldiers who fought at Gallipoli. Later, the term came to mean any Australian or New Zealander who served in World War I.
---
Anzac Day Resources
These resource packs include handpicked articles, media and primary sources from Britannica Library that shed light on the history and spirit of the ANZACs. They include texts and multimedia appropriate for kids and teens.
Librarian Tip:
Libraries in New Zealand can also access these resource pack at:
"The Anzac Spirit" Resource pack for New Zealand Libraries ↗
"Conscription" Resource pack for New Zealand Libraries ↗
---
Anzac Day Book List
Lower
Anzac Ted by Belinda Landsberry
The Anzac Puppy by Peter Millett
Gallipoli by Kerry Greenwood
My Grandad Marches On Anzac Day by Catriona Hoy
A Day to Remember by Jackie French
An Anzac Tale by Ruth Starke
Meet the ANZACs by Claire Saxby
Upper
In Flanders Fields by Norman Jorgensen
Simpson and His Donkey by Mark Greenwood
Loyal Creatures by Morris Gleitzman
The Poppy by Andrew Plant
Remembering for Peace by Dr Heather Sharp
The Silver Donkey by Sonya Hartnett
High
Not Only a Hero: An Illustrated Life of Simpson, the Man with the Donkey by Thomas Curran
Socks, Sandbags & Leeches: Letters to my Anzac Dad by Pauline Deeves
Soldier Boy by Anthony Hill
Flora's War by Pamela Rushby
The Horses Didn't Come Home by Pamela Rushby
---
Activities
Print out these activities for children to complete on their own or in groups, using Britannica Library and the instructions provided. Worksheets can also be downloaded, shared and completed online.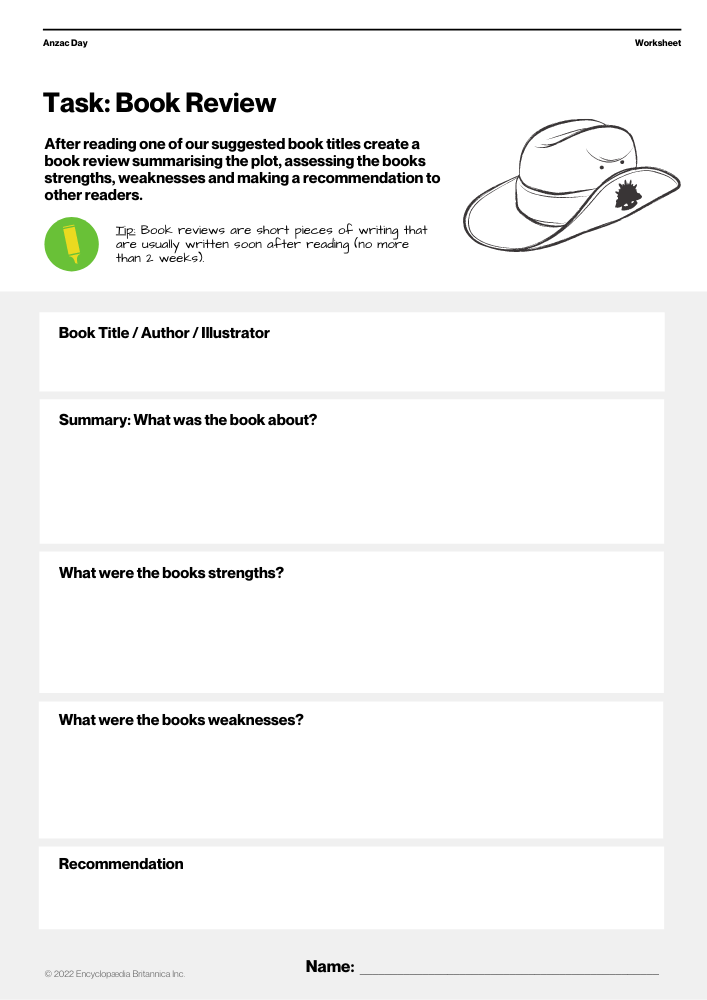 Book Review
Help younger patrons grasp the importance of Anzac Day, its symbolism and rituals using the titles in the above Book List. For an activity idea, ask readers to create a book review on one of the books they read.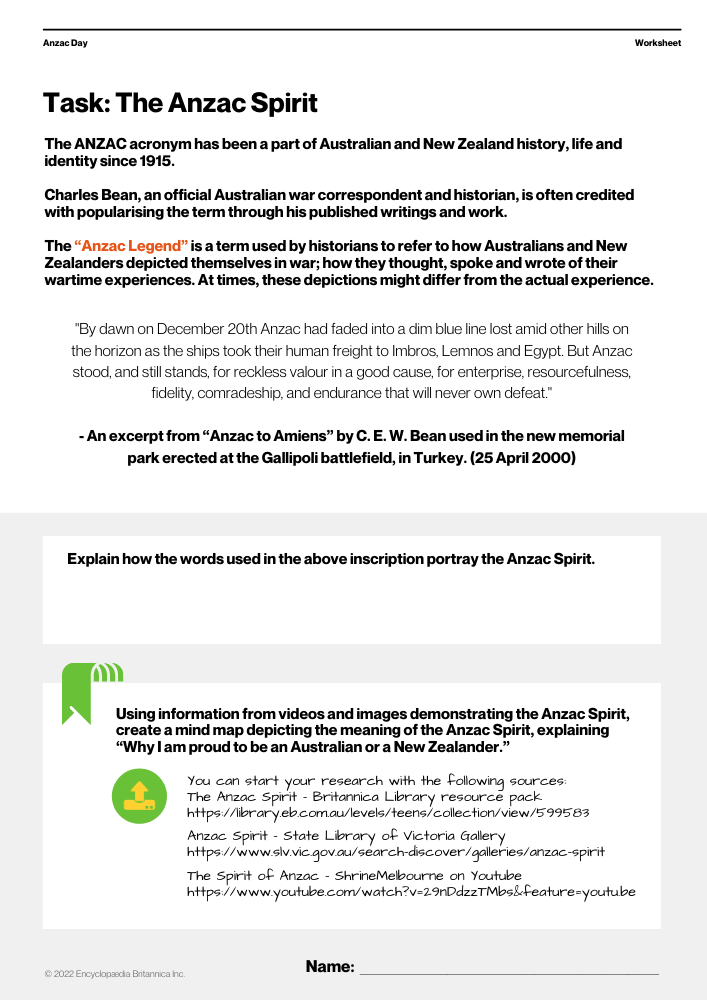 What is meant by the Anzac Spirit?
The "Anzac Legend" is a term used by historians to refer to how Australians and New Zealanders depicted themselves in war; how they thought, spoke and wrote of their wartime experiences. At times, these depictions might differ from the actual experience. Using media demonstrating the "Anzac Spirit", create a mind map that explains the meaning of the term.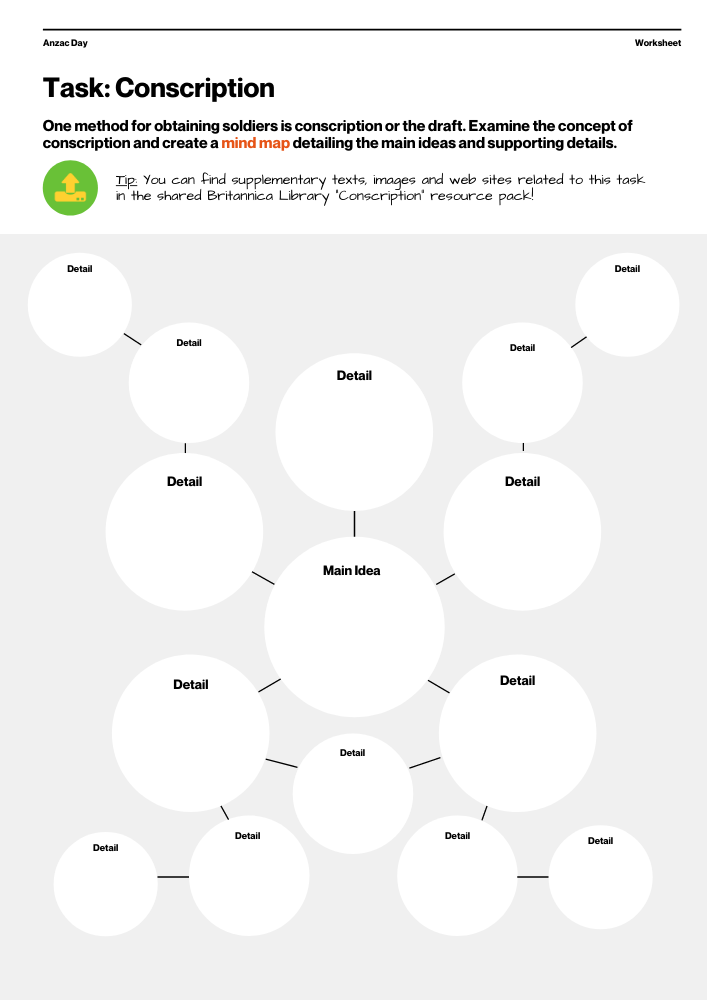 Conscription Mind Map
Without an adequate source of soldiers and staff, countries could not assemble large armies. One method for obtaining the needed workforce is conscription, otherwise known as the draft. Examine the concept of conscription and fill out a mind map detailing the main ideas and supporting details. (Britannica Library is a great place to start your research!)
Featured Image from BRITANNICA LIBRARY: Screen capture from "ANZACs: Indigenous Australians", Australian War Memorial. Accessed 18 Jan. 2022.
---
These activities and resources have been created using content from Britannica Library, the go-to site for safe, comprehensive research for all ages. Find out if your library already has access or set up your own free trial.
---
More Educator Resources
Sign up with your email for more free resources from Britannica.